Last week, a certain number of events took place and are worth paying special attention to.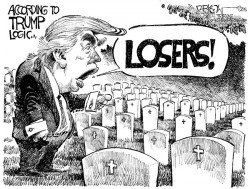 Many were predicting Donald Trump's rapid fall in the polls : pundits, prognosticators, even the previous Republican nominee Mitt Romney and, of course, his current competitors, such as Scott Walker or Jeb Bush. It appears on the opposite that Mr Trump could last longer than expected in the pole position with the support of 18% of Republicans (compared with Mr Bush at 15% and Mr Walker at 10%). A result far from being odd, according to a recent CNN/ORC survey : 63% of Republicans support deporting the estimated 11 million illegal immigrants in the US, a stance adopted by Mr Trump with his outspoken statements about Mexican immigrants being job-stealers and criminals. All the more so when this survey shows that economic security is the most important issue for Republican voters, a great advantage for this New York billionaire who enjoys business bona fides.
As the EU Referendum promised by PM David Cameron is set to be hold before the end of 2017, the Electoral Commission urged the government to reconsider the wording of the question. The following sentence « Should the United Kingdom remain a member of the European Union ? » could appear as biased to the status quo. Therefore the Electoral Commission proposed to add the words « … or leave the European Union », a change the government said it would be ready to accept, although the last word would be left to the Parliament. This development has been welcomed by those campaigning to exit the EU : Nigel Farage, leader of the UK Independence Party, for instance, approved it, stating it was paving the way for his own « out » campaign he would launch in the near future.
Even if the migrant crisis has lasted for several months, with the capsizing and drowning of thousands of them in the Mediterranean Sea, the risks for them to travel through Europe were highlighted only last week. 71 migrants' corpses have been found in a lorry that had travelled to Austria from Budapest, most of them thought to be Syrians fleeing the civil war. That triggered different reactions accross Europe and revealed the growing disagreemenst between Western and Eastern European coutries. If Germany and its Chancellor said it was ready to welcome 800,000 asylum seekers, i. e. more than the rest of Europe, Hungary has been allowing migrants to board trains to Austria and Germany before sealing off the terminal. While Germany and France have both called for the fair distribution of refugees across Europe, countries of the Visegrad Group (Czech Republic, Hungary, Poland and Slovakia) rejected so far any kind of EU quota plan for migrants.
Ten days ago, Alexis Tsipras resigned to trigger snap elections, hoping to win an overall majority on September 20th. Since then, many opinion polls – especially one published over the week-end – showed it could be easier said than done. Support for the left-wing Syriza party retains a tight lead over its opponents (1 to 3% more than New Democracy Party) but has been crumbling. Mr Tsipras as well remains the most popular political leader in Greece but his approval ratings have fallen from 70% in March to 29,5%. On top of that, Syriza internal dissent makes it even harder to secure a majority in the Greek Parliament. In all likelihood, horse-tradding and coalition building will be unavoidable. However, Mr Tsipras warned that he would never rule with once-dominant establishment parties (New Democracy and Pasok) : another pledge he would be ready to renege on to stick to power ?