Last week, a certain number of events took place and are worth paying special attention to.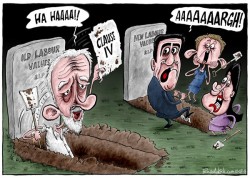 As the final result is to be announced this Saturday, candidates for the Labour leadership are making their final pitches before the close of ballots on Thursday. Four candidates are still in line. Andy Burnham, Yvette Cooper, Liz Kendall and Jeremy Corbin. Defeated by Ed Miliband in the run for the leadership in 2010, Andy Burnham was chief secretary to the Treasury, culture secretary and health secretary under Gordon Brown. Yvette Cooper has also some government experience : she was also chief secretary to the Treasury but also work and pensions minister under PM Brown. Then comes Liz Kendall and Jeremy Corbin, both outside candidates, although the latter is the bookies' favourite. Far-left wing MP, Mr Corbyn entered the contest in the eleventh hour but has since gained the support of many trade unions and, more importantly, of a large part of Labour electorate.
Her Diamond Jubilee in 2012 was apparently not enough. Queen of the United Kingdom of Great Britain and Northern Ireland, other Realms and Territories, Head of the Commonwealth and Defender of the Faith, Elizabeth Alexandra Mary Windsor a.k.a. Elizabeth II, became on September 8th the longest reigning monarch of England. Crowned at Westminster Abbey on June 2nd 1953 at 25, she supplanted her great-great-grandmother Queen Victoria, former longest holder of the title. Quite a long time for a monarch that was only third in line to the throne : shorthly after the death of her grand father, George V, her uncle Edward VIII adbicated to marry Wallis Simpson, which permitted Elizabeth II's father to rule as King George VI, making her heir to the throne.
Is it the beginning of a watershed in Syria ? As France President ordered preparations to begin for air strikes on Islamic State militants in Syria, Britain has already carried out a drone attack on a group of IS fighters in Syria, killing two britons. Senior British government figures have also been supporting the idea of extending strike missions to Syria, although it would require parliamentary approval. Last but not least, Moscow could already be involved in the fighting in Syria : if it is no secret Russia has been supplying Damascus with equipement since the beginning of the civil war, it could have also sent troops to assist Bashar al-Assad government on the ground. Will the West and Russia be able to overcome their differences to coordinate their efforts, or is it to a large extent symbolic for the West and encouraged by the need to be seen to respond to the refugee crisis emanating from Syria ?
Two months ahead of its first openly-contested general election in 25 years (held on November 8th), campaigning has begun in Myanmar. Although Aung San Suu Kyi's National League for Democracy is expected to win by a landslide and the ruling military-backed party to suffer numerous losses, the constitution still guarantee important powers to the military (and bars Ms Suu Kyi from becoming President). It is granted 25% of parliamentary seats as well as a veto over any constitutional change. On top of that, its commander-in-chief controls key ministerial appointments no matter what. However, if the NLD wins those elections as he did 25 years ago, and if the military choose not to ignore the result as it did not, democratic transition would definitely be on its way in Burma.