Last week, a certain number of events took place and are worth paying special attention to.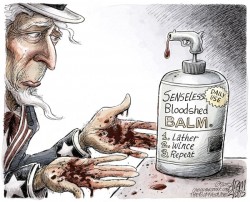 China kept at bay. The Trans-Pacific Partnership (TPP), one of the biggest trade deal in decades, was struck on Monday between twelve Pacific rim countries (including Japan and the US but not China). It is meant to cut tariffs and set common standards in trade for a group of countries of 800 million and covering 40% of world economy. After five years of intense negotiations (especially in regards to pharmaceutical corporations, car industries and agricultural sector), the deal has still to be ratified by legislative bodies of each countries. It could prove difficult in America in the midst of the president primaries. However, Congress has already granted fast track authority to President Obama and the fact that this deal has excluded China from negotiations and could force it to accept most of the standards laid down by the TPP is likely to please the Republicans.
Rampage as usual. Last Thursday, a gunman in a college located in the US state Oregon killed nine people (eight students and one teacher) and injured many more in a shooting rampage. The author of that mass shooting, Chris Harper Mercer, could have been carried out the killings out of religious motives, as he asked his victims to state their religion before shooting dead the Christians. As President Obama urged the public to press their politicians to support reform, an opinion polls show that 80% of respondents backed laws preventing the mentally ill from buying firearms while 70% were in favour of a national gun-sale database. However, the current composition of the Congress and the Republican primary process does not allow to hope any major shift on this controversed issue.
Collateral damages vs war crime. Last Saturday, as Afghan forces were regaining control of the city of Kunduz from Taliban fighters, an air strike conducted by Nato forces on an hospital caused the death ofat least 22 people, including Medecins Sans Frontieres (MSF) staff. If the US have presented their condolences and promised a full and transparent investigation, the Afghan government justified this attack saying that insurgents were using the hospital « to target Afghan forces and civilians ». Kabul also put forward the fact that its forces retook the entire city of Kunduz, a strategic location at the centre of drug-smuggling routes, althought pockets of Taliban resistance remain on the outskirts of Kunduz. Both MSF and the UN called it an admission of crime wars and urged for an independent investigation.
Two in a row. European judges delivered this week two difficult rulings for the Conservative government of David Cameron. The first one is about the European Court of Justice stating that blanket bans on prisoner voting violate fundamental rights of EU citizens, if not proportionate to the criminal offence and open to appeal. This is a serious blow to Mr Cameron who claimed the idea of prisoners having the right to vote made him « physically sick ». If the UK Prime Minister could still pretend to leave the European Court of Human Rights to solve the issue, this new ruling shows that EU's top judges can still enforce the very same fundamental rights. The second ruling is about rights to privacy and the powers granted to British intelligence agencies, especially the Safe Harbor agreement, allowing tech companies to send personal data about Europeans to the US and strongly supported by Mr Cameron.