The Swedish general elections set on September 14th might be a pyrrhic victory for the Social Democrats.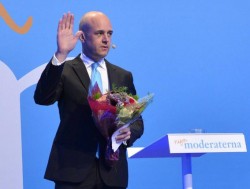 Results of the Swedish latest election are clear : the centre-left bloc won 43.7% of the vote, ahead of 39.3% for Fredrik Reinfeldt's centre-right ruling coalition. The opposition party is therefore certain to return to power even if short of majority. Indeed, the Sweden's Social democrats won only 31.2% of the vote, which makes it a difficult conundrum for their leader, Mr Lofven, to put together a stable parliamentary coalition. As the negotiations began, he curtly rejected the ex-Communist left (5.7% of the vote) and seemed ready to renege on election promises with the Greens (Mr. Lofven promised to support nuclear power while its Greens' counterpart urged to close immediately two of Sweden's ten nuclear reactors). Last Thursday, Stefan Lofven announced his intention to form a minority government with the Green Party. General elections left them with 38% of the vote, requiring opposition party support – or abstentions – on important government proposals.
Even if Swedish governments do not need a vote of confidence (as long as there is no majority vote against them, they remain in control of the Parliament), they could face their most decisive moment on November 15th. If the Social Democrats and Greens are still nitpicking about fiscal issues (or privatisations with the former Communist Party), they might not be able to present a budget likely to win majority backing.
If at this point the Social Democrats and its allies do not see eye to eye, they will struggle not only to form a government but also to keep their leadership in the parliament.
The Moderate-led opposition could itself propose a budget. The far-right Sweden Democrats, which took more than 13% of the vote, could decide to back this budget. Such an outcome would not be surprising : during the campaign, the outgoing Prime minister Reinfeldt's nodded at the Sweden democrats, stating that "the cost of welcoming more asylum seekers would be less to spend on jobs and schools". Breaking with Sweden's pro-immigration consensus, he might have secured for his party a window of opportunity for the budget vote.
Acting this way, the centre-right coalitions would make the far-right Sweden Democrats led by Jimmy Akesson kingmaker. Moreover, Mr. Lofven would have no choice but calling fresh elections. Its is of paramount importance that the centre-left bloc remains united to win majority backing. If they cannot agree on salient points, they could be defeated by an alliance of necessity comprised of centre-right and far-right, leaving the Swedes ruled by a government they rejected.