Last week, a certain number of events took place and are worth paying special attention to.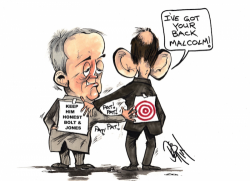 Australia has a new Prime minister, again ! Her former PM, Tony Abbott, was ousted as leader of the centre-right Liberal Party. In the party leadership ballot, he received only 44 votes while his challenger, Malcolm Turnbull, got 54. Former Minister for Communications under Mr Abbott, he resigned to launch a leadership challenge – a move that Tony Abbott used against him years ago (and survived in February). Mr Turnbull led the Liberal Party from 2008-2009 but lost back then a leadership challenge to Mr Abbott by one vote. This type of procedure is business as usual for Australia. For instance, John Howard was the last Australian PM who served a full term, which ended in… 2007. Since then, Mr Rudd was ousted by Ms Gillard in 2010 before ousting her in 2013 and losing the elections a few months later.
He was a 200-1 outsider when the three-month contest began but was elected anayway : Jeremy Corbyn got almost 60% of more than 400,000 votes cast in Labour leadership campaign. He therefore unveiled his shadow cabinet this very week with a major controversy around the nomination of John McDonnel as shadow chancellor. This MP from Hayes and Harlington faced harsh criticism after telling at an union event that he would be ready to "go back to the 1980's and assassinate Thatcher". Besides this dubious appointment, the question of loyalty remains quite uncertain in the Corbyn cabinet. Many political pundits note that expecting loyalty when having been an insurgent in his own party is not far from being delusional…
Is it the beginning of the end for the EU's Schengen agreement on free movement ? Or a temporary measure allowed in emergencies by the very agreement ? Hours after Germany imposed checks on its borders with Austria, the latter, Slovakia and the Netherlands announced they would tighten borders controls in order to deal with the influx of migrants. The timing was quite disturbing. It happened as Hungary completed a fence along its borer with Serbia and is expected to toughen its measures as introducing a state of emergency in the border area. But it also occurred when EU ministers were due to vote a plan to redistribute 40,000 asylum seekers through mandatry quotas. A plan many Eastern european countries have opposed so far, pointing the fact that the Schengen agreement will allow migrants to go wherever they want to, making any redistribution plan useless.
Seen as a test of public opinion ahead of the 2016 national ballot, the Russian regional elections showed the victory of United Russia, President Vladimir Putin's party. Its candidates for governor obtained in some region over 90% of the vote, while the official count gives Parnas (a coalition of opposition groups founded by Boris Nemtsov and including Alexeï Navalny's party) around 2% of the vote in Kostroma, the only region it was registered by the official electoral commission. According to Parnas, it was granted this one and only permission to run only because Kostroma is a largely rural region – and most opposition support is in big cities. On top of that, suspected violations of the electoral law were denounced as well as smear campaigns against opposition parties candidates, outing gay candidates or "proving" they were just Western stooges.