Last week, a certain number of events took place and are worth paying special attention to.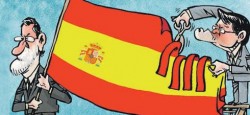 He did not come for nothing. Gathering more than 150 world leaders in one place, UN's 70 general assembly has started this Sunday by discussing climate change and global development goals and went on with the future of UN peacekeeping forces. However, the biggest piece was this Tuesday and debates of the future of Syria's regime. While Barack Obama and François Hollande maintained their stance – Bashar al-Assad cannot stay in power for he created the current Middle East predicament – Vladimir Putin has been harshly criticizing Western leaders and their "negative role" in Syria's crisis. Ten years it has been since Vladimir Putin talked at UN general assembly : however, despite Russia's controversial action in Ukraine, he is more than ever at the center of attention of the world diplomacy.
Not the best way to celebrate your first year in office. As it has been one year President Ashraf Ghani won a controversial presidential election, the city of Kunduz has fallen into the hands of the Taliban on Monday. It is then the first provincial capital retaken by the insurgents since they lost power 14 years ago, a success likely to embolden the Taliban and cement the credentials of its new leader, Mullah Akhtar Mansour – who hinted the possibility of peace talks with Kabul last week. However, nothing is done yet since Afghan forces have begun to retake the city, starting with the central prison and the police headquarters, which had been targeted by the Taliban to free hundreds of their own from jail.
18 months before breaking up ? After the victory of pro-independence parties in Spain's Catalonia region, the Catalan regional President Arturo Mas has given clearer indications about the creation of an independent Catalan state. Having secured 72 seats in the 135-seat regional parliament gives him a clear majority to proceed, although the central government notes that it did not get 50% of the vote, winning 1.9 million out of 4 million ballots cast. Whatever the rethorics suggest, it is more likely that Arturo Mas is, for the time being, only aiming at a legally-recognised referendum rather than any unilateral move. On the other side, the governing Popular Party is more concerned about the general election, set to be held in three months from now, than this recurring issue that could be another flash in the pan and result in another trade-off for more fiscal autonomy.
Is there life on Mars and will there be human activity soon ? This week, Dr Jim Green, Nasa's planetary science director and Michael Meyer, the lead scientist on Nasa's Mars exploration programme, said evidence of liquid water on Mars had been found. This discovery is crucial for two main reasons. First of all, any liquid water raises the possibility of microbes – that is to say life- being present. Indeed, extremophiles microorganisms on Earth can survive in such difficult conditions. Second, the identification of water supplies could make it more possible to send humans on Mars. Figures of the conquest of space such as the astronaut Buzz Aldrin are already talking about colonizing the red planet : this new discovery makes it even more doable.