Last week, a certain number of events took place and are worth paying special attention to.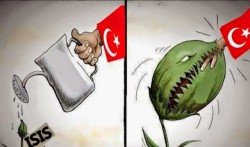 Two blasts, three suspects. On Saturday, more than 100 people were killed in the Ankara bombings, as they were taking part to a peace rally, calling to an end to the violence between Turkish government and Kurdish forces. These attacks are the deadliest in Turley's history ; yet, nobody has claimed responsibility for it. IS could have done it and, therefore achieving at least two goals : hurt two direct enemies, the Kurds and the Turkish government that is currently blamed for having first supported the terrorists then bombing them. The Prime minister of Turkey, Ahmet Davutoglu, was prompt to accuse the PKK : after the attack of Suruc last Summer, pro-kurdish political parties were emboldened by the tragedy they went through. But it is quite unlikely (and awfully cynical) to consider this option, as so many pro-kurdish people died at the Ankara peace rally. Then there is the Turkish state (not to mention the «deep state», a group of influential Trukish military, intelligence services and mafia) that could weaken the HDP in order to secure an hefty majority for the general election due on November 1st. However, would President Erdogan be ready to jeopardize his political future and Turkey's one just to get more power on the paper ?
Five in a row. Belarusian President Lukashenko has won his fifth term. The turnout was 86.75% and Mr Lukashenko obtained more than 83.5% of the vote. Europe's last dictator has therefore broken his own record, although he has never polled less than 75% in any of the five elections. His current performance might have to do with the fact that two out of the three challengers were almost pro-Lukashenko candidates, or that major opposition leaders were not allowed to register and to run the campaign. It seems that, after having sent some signals to the European Union, such as the recent release of political prisoners and the welcoming of election observers, Mr Lukashenko still wants Belarus to remain the «soft dictatorship» (as this year Nobel Literature Prize laureate, Svetlana Alexievich puts it) it has been for a long time now.
Mistral gagnant ? Since the role played by Russia in Eastern Ukraine, France decided not to deliver Mistral class warships to Moscow and, therefore, reimbursed it last July. This week, the deal to sell the same ships to Egypt was officially closed between both parties. If the amount to which Egypt agreed is still unknown, France claims it is not out of pocket. Egypt will then take fully possession of the vessels in March, while some 400 Egyptian sailors will train in Saint-Nazaire on Mistral's advanced technology. Critics have been harsh about the final use of those ships : if President Abdel Fattah Al Sisi fights islamic militants in the Sinai Peninsula, it would have committed war crimes when bombing Egypt Western border in Libya with another part of its arsenal that will be soon emboldened by French technology : Rafale fighter jets.
A much reported death. Last Saturday, Iraqi Interior ministry spokesman claimed Iraq's air force had hit a convoy of Islamic State leader Abu Bakr al-Baghdadi, the head of IS, in Western Anbar province, near the Syrian border. It also added that the fate of the IS leader remained unknown. One has to be cautious about this kind of statement by Iraqi military : one such claim in November 2014 was followed a few days later by an audio message from Baghdadi who apparently remained well and alive. The same happened in July 2014 : a video of Baghdadi at a mosque in Mosul appeared amid reports that Baghdadi had been killed or wounded in an air raid.