Last week, a certain number of events took place and are worth paying special attention to.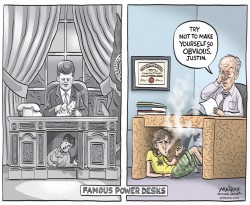 Trudeau II. In power since 2006, incumbent Canada Prime minister Stephen Harper has lost his gambit. Seeking a fourth term, he will have to step down before Mr Trudeau is sworn in, that is to say in a few weeks' times. His strategy, having the campaign to last a record 78 days, was supposed to give more time to bring its financial advantages to bear. It seems it was not enough. The centrists Liberals, led by Mr Trudeau, won an overal majority, obtaining more than 180 seats (over the 338 of the House) against 99 for the Conservatives. In 2011, it was 34 against 166. Justin Trudeau will then become PM, as his father Pierre Trudeau was twice, more than thirty years ago.
Sisi, the young emperor. Since their Parliament was dissolved by a court ruling in 2012, Egyptians are now voting in the first round of long-delayed elections. The second round is due in November and results should be known until early December. However, no surprises are expected. If the new Lower House will have more constitutional powers than before – approving or vetoing any prime minister appointed by the president with a two-thirds majority – its is unlikely to be nothing more than a rubber-stamp parliament. Most parties have lined up behind President Abdul Fattah al-Sisi and the Muslim Brotherhood, which won half the seats in the last Parliament, is banned, with its leaders in jail.
SVeePing victory. The anti-immigration right-wing party Swiss People's Party (SVP) has won Switzerland's general election with 29.4% of the vote. It obtained 65 seats out of the total 200 in the lower house, that is to say 11 more seats than in 2011 when it won with 26.6% of the vote. It can now command a majority with the FD and others small right-wing parties in the National Council (lower house). Pundits reckon that Europe's migrants crisis boosted support for the SVP, but also the FDP that got an electoral boost, coming third. For instance, the SVP spearheaded the imposition of quotas that was confirmed by the February 2014 referendum.
Intifada to come ? Since early October, a spate of stabbings of Israelis and some shootings has occured, first in Jerusalem and then accross Israel, including the occupied West Bank. The violence between the two communities has spiralled since clashes erupted at a flashpoint Jerusalem holy site in mid-September. Tensions boiled over amid rumours that Israel planned to relax long-standing rules to strengthen Jewish rights at the complex, which Israel has denied. So far, eight Israelis and more than 40 Palestinians have been killed. As UN Secretary-General Ban Ki-Moon was visiting Jerusalem, he appealed for calm and urged both communities to end their «posturing and brinkmanship».